World Synchronized Meditation
Millions Around the World Join on Feb. 1st
For many of you, this is the first email you're receiving about the prayer vigil. Welcome! In the last five days over 200,000 people have joined us through the video and the vigil website. On February 1st there will be millions of us radiating a peaceful pulse that has the power to shift the even darkest crisis. I have seen this work many times before, and with your help it will work again.
We will be on the ground overlooking the
villages
held by both
ISIL and H
ezbollah
Imagine how committed the spiritual leaders are who are joining us for this important meditation. They will join me near a Syrian village on the Israeli side of the Golan Heights where we can view several villages currently held by either ISIL or Hezbollah. From this vantage we will offer prayers and chants from all three of the great Abrahamic traditions ~ Jewish, Christian and Muslim, as well as the local Druze religion. Then at the designated time we will pause and join with people from around the world who are sending their prayers to heal the region.
Many have said that prayer and synchronized meditation will not heal the divisions that are so deep in this region, but millions of people disagree. Scientific studies have proven the power of focused, massive intent, and now we apply it to the suffering people of Syria.
On Sunday we will send you the exact
For security reasons we are holding back exactly where we will be and what time we will hold the meditation. On Sunday, just two days from now, we'll let all of you know so you can stop for 10 minutes and join us in prayer. Please continue holding us in your hearts as we prepare the way.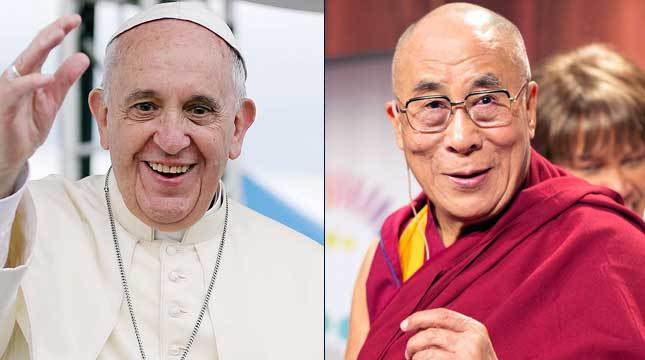 Pope Francis and the Dalai Lama
We received word that two of the Dalai Lama's monasteries in India will be joining us for the meditation, including

Gyuto monastery near Dharamsala. We have also reached out to Pope Francis and are confident he will join us in prayer. A personal message is being hand delivered to His Holiness, and since both of these men put such a high priority on inter-religious harmony, we are sure they are supporting us. Speaking of harmony, Monday begins a week long celebration at the United Nations ~ Inter-religious Harmony Celebration. This is an auspicious time for so many dedicated people to be radiating their prayers of peace.